480 BCE: Reconsidering the Chronological Anchor of Archaic and Classical Greece
Conference, 23–26 June 2022
Conference Center Soeterbeeck, Ravenstein, The Netherlands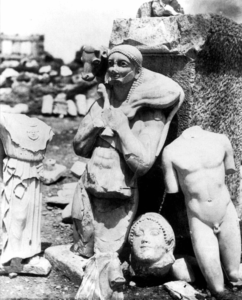 For the history of Greece, one of the main 'anchor' dates is 480 BCE. In that year, the Persian armies led by king Xerxes occupied large parts of Greece. For the history of Greece, both before and after the Persian wars, the watershed of 480 has developed as one of the main anchors on which the interconnected fabric of relative dates seems to depend. The solidity of this framework is the topic of this conference. The conference brings together specialists in subdisciplines of Greek history and archaeology to share, debate, and test shifting views on the significance of 480 on the chronology of Greek history of the Archaic and Classical periods.
Click here to download the program (updated 17 June 2022). Please note that the program times refer to Central European Timezone (Netherlands).
For abstracts of most contributions, click here.
Handouts are available here:
Registration for physical attendance has now closed. If you are interested in joining the conference via Zoom, please contact us at 480conference@gmail.com indicating your desired days of attendance (23, 24, 25, and/or 26 June).